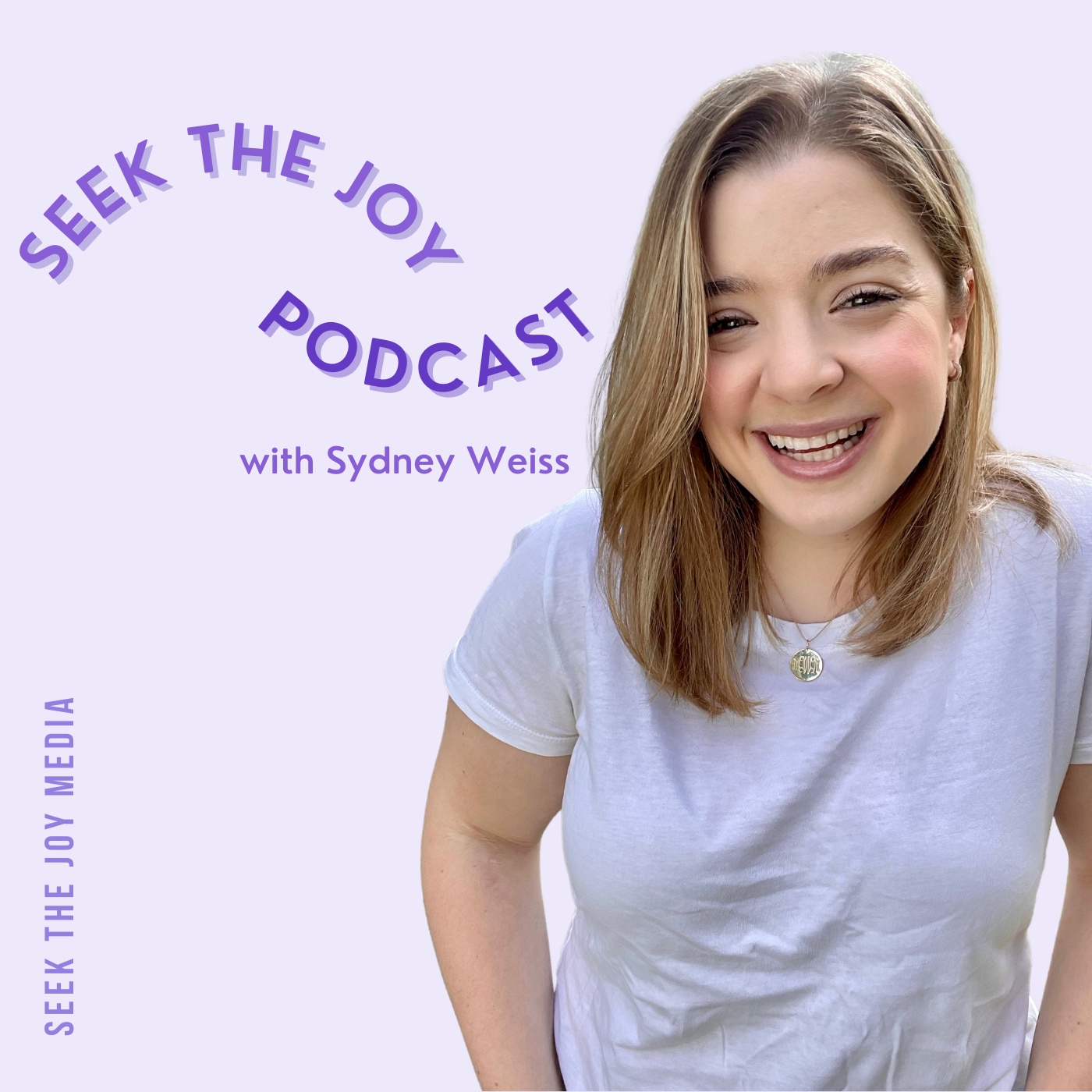 Happy #SeekTheJoy Tuesday! On the podcast this week is Amber Romaniuk, an Emotional Eating, Digestive and Hormone Expert who helps professional women achieve optimal health through mindful eating, self-care and overcoming self-sabotage with food.
Her podcast "The No Sugarcoating Podcast" has over a half a million downloads and she has appeared on local TV 50 times in the last three years alone. Amber overcame her own emotional eating after gaining and losing more than 1,000 pounds, spending over $50,000 on binge foods and spending 5 years balancing her hormones and digestion.
Now she helps others achieve Body Freedom™ so they have the confidence and health to create amazing lives.
In this week's new episode we chat about:
Amber's incredible journey overcoming food addiction and emotional eating, the assumptions and programming around food, body image, and weight we take on from a young age, the role of weight as self-protection, and the rock bottom moment that changed everything.
Amber shares the powerful role of self-care, creating better boundaries, and nurturing yourself in creating body freedom, why self-sabotaging behaviors have a huge impact on our ability to show up and be present, and how we can begin to redefine the role of food in our lives.
Plus, Amber shares her top tips for anyone who wants to make the switch to positive self-talk, the tools she relies on to support herself and her clients, and so much more!
To learn more about Amber you can connect with her on her website www.amberapproved.ca and on Instagram @amberromaniuk Facebook @amberapproved Twitter @amberromaniuk YouTube here and you can find the No Sugarcoating Podcast here
We'd love for you to check out this week's new episode and join the conversation ✨
Instagram instagram.com/seekthejoypodcast
Facebook fb.me/seekthejoypodcast
Twitter twitter.com/seekthejoypod
E-mail sydney@seekthejoypodcast.com 
Show Notes: www.seekthejoypodcast.com/show-notes
JOIN US IN SUPPORTING OUR HEALTHCARE WORKERS: We're so excited to launch and share our "Seek The Joy" enamel pin! This pin is the perfect way to spread a little joy, remind yourself that brighter times are ahead, and support our healthcare workers on the front lines. Every pin purchase includes a $5 donation to www.getusppe.org to support our healthcare workers who are on the front lines fighting against COVID-19.
RATE AND REVIEW Seek The Joy! When you do, e-mail a screenshot of your review to sydney@seekthejoypodcast.com and we'll send you our NEW and improved #SeekTheJoy Guide for Infusing More Joy into Your Life! 
SEEK THE JOY GUIDES: They're here and they're LIVE!! From our Seek The Joy Guide to Podcasting to Seek The Joy Guide Pitching Guests,  click here to learn more and get your hands on a little more joy in your life.
Did you hear, we're on PATREON! Your support of this podcast means the world. Full of rewards and exclusive content, we can't wait to take this joy journey to the next level. Sing up to be a patron of the podcast here: patreon.com/seekthejoypodcast
JOY CORNER a new interview-style blog series spotlighting inspiring souls, moments that bring you joy, products we love, and so much more. Join our corner of the internet and check out this week's features. Ready to share your light, magic and joy? Get in touch here to share your joys, passions and moments of inspiration. a new post in this series goes live on our site every Thursday.
"LESSSONS IN" SERIES: In this new series, we're sharing our reflections on life's biggest lessons and the joys we find through these experiences - all to create greater connection and community. Every episode features a conversation that will inspire, motivate, and get you thinking- and we can't wait to grow with you. Ready to join us and share a lesson that impacted your life? Fill out our interest form here.
We are gearing up for the next episode in THE POWER OF STORYTELLING! To learn more and to submit your story, visit our website https://www.seekthejoypodcast.com/share-your-seekthejoy-story/ and fill out our interest form.